GF Toskana smaking 11.5.12:
En fremdeles intens purpur farge med antydning til oransj kant. Fresh og deilig i munnen med innslag av sigartobakk, pepper og asiatisk krydder. Spennende nese med sommerblomster og kirsebær. Vinen holder seg godt, men mot Brunelloe`n i rekka (Lisini) blir den nesten flat og smal på smak. Holder seg godt i glasset. 90 poeng.
Fattoria Nitardi is a traditional wine growing estate, situated in the centre of Tuscany between Florence and Siena. The old wine estate used to be a strong hold tower and was first mentioned as "Nectar Dei" in the 12th century. During the 16th century it belonged to Michelangelo Buonarroti who grew his own vines. The quality of the wine was so impressive that Buonarroti sent several bottles of Nittardi to Rome as a "dono genuino" as is written in the letters he sent to his illustrious patrons, Popes Julius II and Leo X.
Today, 12 hectares of vineyards, olive groves and 100 hectares of unspoilt woods encircle the Nittardi Estate. It lies in the middle of idyllic protected countryside and is 8 km from the nearest village, Castellina in Chianti. The vines at Nittardi grow on an ideal site right in the heart of the Chianti Classico region, at about 450m above sea level on the south side of a range of hills. These hills are covered with oak trees that offer protection from the cold winds.
Art on the Bottle
Nittardi
has a long history in the world of art, which continues today. Every year an artist designs a label as well as the wrapping paper, which is used for a limited edition of Casanuova di Nittardi wine bottles.
The collection which started in 1981 includes works by internationally known artists such as Valerio Adami, Eduardo Arroyo, Elvira Bach, Corneille, Friedensreich Hundertwasser, Alfred Hrdlicka, Horst Janssen, A.R. Penck and Paul Wunderlich and the 2006 Label was designed by Yoko Ono. .
Since the so-called 'wine miracle' which saw an incredible increase in quality during the 1980's, Chianti Classico is traditionally made from the regional Sangiovese grapes. Only 5% of Cannaiolo grapes are added to the wine to make it smoother and rounder.
This Nittardi wine is treated with special care and attention in the vineyards as well as in the cellars. After being cask aged for at least six months the young wine eventually matures into an elegant, richly flavoured red wine which can be aged for long periods of time.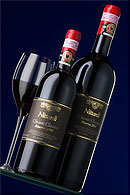 This
Nittardi Chianti Classico Riserva
is made from only the best pressings of the Sangiovese grapes from the original Vigna Alta of Nittardi. It is vinified
separately and aged in French oak barrels for a period of at least 24 months which transforms the quality of the wine.
After bottling, the wine is aged for a further 3 to 5 years in order to expose its full potential. The wine develops a harmonious character full of depth and intensity due to the long maturation period. It is well respected and appreciated in the world of high quality wines.
In these past years
Nittardi Riserva
was not only awarded the
3 Glasses of Gambero Rosso
but also the
5 Star Decanter
Award and the highest valuation by the Grand Jury Européen; it was also judged by I Vini d'Italia as
best Chianti Classico of its year
, with the 5 Bottle title of
Vino dell'Eccellenza