Vinmøte Are 26.3 15
Pol Roger Extra Cuvèe de Reserve 2004
Kim tok årgangen og Knut tok produsenten. Årgangen kler produsentens frisk og stålaktige stil. En god og harmonisk munnfølelse. En vellykket champis som strammer bedre inn enn vanlig. 89 poeng
Riesling Kiedrich Grâfenberg 2006, Robert Weil
Alsace på nesa, gylden farge med røkt og komplekst aromabilde. Ikke den renskårne rieslingnesa til å begynne med. Lang ettersmak, en rik og moden stil som stemmer godt med årgangens karakter. Etterhvert betydelig slankere i munnene med appelsinzest og bedre mineralitet. Beholder floraliteten og jeg trodde kanskje Clos St. Hune. Mere citrus over tid, mere knivskarp i kanten, en veldig bra vin. 2007 årgangen finnes fremdeles på noen pol. Løp og kjøp ! 91-92 poeng.
fra wein-plus
The estate is located in the municipality in the German region Kiedrich
Rheingau
and was founded in 1875 by Dr. Robert Weil (1843-1933). There are also rooted in the well-known wine dynasty Bernkasteler
Prum
. By buying the two wineries Nilkens and Bushman, of the house of the late Sir John Sutton English and vineyards of the estate of Count von Furstenberg, the property was considerably extended. A Riesling of the vintage 1893 from the position Gräfenberg the winery made widely known. The read-out of the mountain Kiedricher was then delivered to many emperors and kings of Europe. So in 1900 the Vienna Hofwirtschaftsamt purchased for the Habsburg imperial court 800 bottles of this wine bottles for a price of 16 gold marks. Incidentally, in the
Treasury
House of the top wines of the great vintages stored back to those legendary elite. The vintage 1920 Kiedrich Gräfenberg Trockenbeerenauslese is as
Zeppelin Wine
named because he at the world flight in 1929 aboard the airship "Graf Zeppelin LZ 127" was. In 1988, acquired the Japanese beverage company
Suntory
a majority interest in the property. It is now managed by the fourth generation great-grandson of founder William Weil.
The vineyards cover 75 hectares of vineyards in the
VDP classification
Kiedricher individual layers
Gräfenberg
, And mountain monastery (wholly owned)
Turmberg
As well as others. They are planted with Riesling 99%, the small remainder of the Pinot Noir. Quality criteria in the vineyard are
Greening
Exclusively organic
fertilization
, pest control with biodegradable, environmentally friendly products, and the refraining
Herbicides
. Other quality factors include income restrictions through restrictive cut, twice
Thin out
, Early in-adverse selection and extremely selective vintage usually not before early November. This often takes eight to ten weeks with multiple reads. Sort of noble rot at harvest grapes harvesters already separated these three levels decay. In the cellar the grapes are again read out for berry berry. The preclarification the musts made by natural sedimentation. The six-to twelve-week fermentation in temperature controlled stainless steel tanks and in traditional Rheingau piece barrel. In the reductive expansion is the longest possible contact with the
Lees
utilized. The red wines are aged in oak barrels. The products are marketed in the two lines estate wines, and the
large greenhouse
Gräfenberg, tower hill and mountain monastery. Traditionally, the selection of sweet wines to include Trockenbeerenauslese to the top products of the house. They are marked with a gold capsule and
Auctions
auctioned at high prices. The winery is a member of
VDP
(As
Puligny Montrachet 1995, Domaine Leflaive
Tydelig hvit burgund med svovel og en litt undermoden grønn avslutning. Litt stikk i finish, veldig frisk fremdeles, men den svir litt i munnen. Noe mager og flat smaksprofil, men som alltid; morsomt å drikke eldre hvit burgund som ikke har snev av premox. 90-92 poeng
Meursault 2002, Comte Lafon
Svovel med rar nese. Reduktiv, men den blir bedre i glasset og ganske så "edel". Men den forblir kantete, smørtoner, grovskåren, uelegant med touch av bitterhet. Marsipan med alkotouch. En rik vin, men mangler endel eleganse. 88-89 poeng.
Riesling Berg Schlossberg 2006, Georg Breuer
Lys og gylden, tydelig riesling med et kraftig anslag, kompleks med strøk av botrytis. Stor og breial i munnen med bitre (u)noter. Mandarin og marsipan. Den mangler endel presisjon, den sklir litt ut, men den har en imponerende rik og fyldig munnfølelse. Vi diskuterte endel om botrytis var bra eller ikke for denne vinen. 89-90 poeng.
Georg Breuer er et godt etablert navn i vin Norge. Men det er ikke lenger verken Peter, den første Breuer, eller Georg som står bak vinene lenger. Det er 4e generasjon, med Theresa Breuer i spissen,som nå rører i grytene.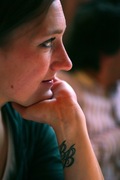 Eiendommen ble etablert i 1880, og har vært i Breuer familiens eie siden begynnelsen av 1900-tallet. Peter Breuer overlot eiendommen til sin sønn Georg, som den også er oppkalt etter. Brødrene Bernard og Heinrich tok over etter sin far og utvidet eiendommen til dagens 33 ha med topp vinmarker i Rüdesheim og Rauenthal. Det er Bernhard som tildeles æren for å ha oppnådd internasjonal anerkjennelse for Breuer vinene og gjort eiendommen til hva den er i dag.
I 2004 gikk Bernhard Breuer uventet bort og hans datter Theresa ble mer eller mindre "kastet" inn i businessen. Theresa har vokst opp i vinmarkene i Rheingau, men i en alder av 19 år er det å skulle ta over et så stort konsern et tungt ansvar for unge skuldre å bære, og savnet etter Bernhard er fremdeles stort. Heldigvis har hatt god støtte og hjelp i onkel Heinrich og Hermann Schmoranz som har vært kjellermester hos Breuer i en årrekke. I dag er hun utdannet ønolog og har hatt tid til å vokse med oppgaven. Theresa står nå også anvarlig for både nasjonal og internasjonal markedsføring av Breuer vinene. Som hun selv sier så er hun eiendommens "potet", hun hjelper til der det trengs i tillegg til sine administrative oppgaver og arbeidet i vinkjelleren.